Universal Hunt Group is a complete eco-system of Human Resources solutions developing products and services which aims to bring global talent close to opportunities. Our offering comprises of International and Domestic Recruitment Consulting, Online Networking cum Career Portal and Software Solutions.
We have clientele across all levels, sectors, and countries from Middle East, Africa, Europe, USA, and South East Asia.
We provide different services through different companies and brands to ensure focused approach and enhanced expertise.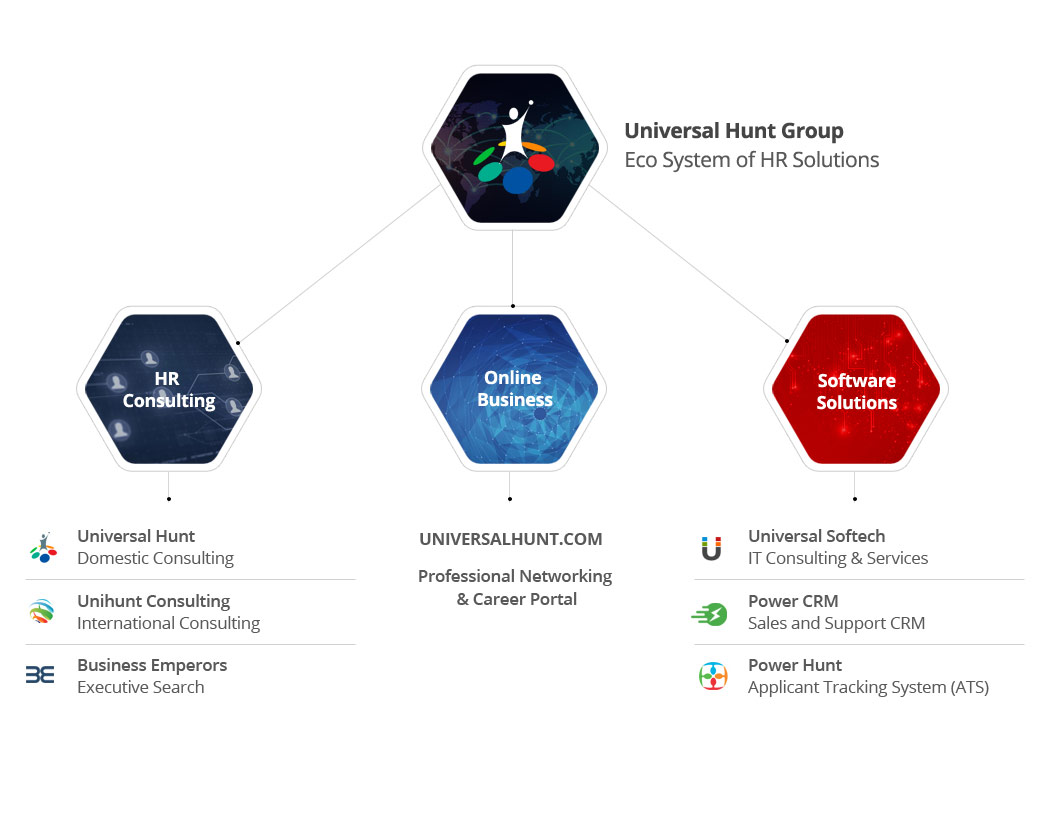 Our International and Domestic Consulting Services include:
Executive Search: Universal Hunt is a leading retained executive and board search firm focusing on placement consulting at the high-end C-suite profiles like managing directors, board members, presidents, and other C-suite positions like CXOs, CEOs, CFOs, CTOs, etc.
Permanent Placement: Universal Hunt is one of the largest global recruiting consultants with expertise in executing Turnkey Recruitment projects focusing on bulk recruitment or mass recruitment skills cutting across functions, hierarchies, locations, and nationalities in shortest time span. We expertise in both domestic, as well as overseas manpower consulting across nationalities. Permanent staffing services includes core talent search services like building candidate database, newspaper advertising, resume search on online job portals, social media search, resume screening, candidate approach methodology, interview management including mass recruitment drives at multiple locations, pre-joining candidate assistance like immigration advice, document verification, all country visa assistance & liaisoning, medical checkup, travel and ticketing arrangements, onboarding and also post-joining assistance.
HR Augmentation: Human Resource augmentation or subcontracting or contract staffing or temporary staffing is primarily onshore as well as offshore outsourcing of manpower on a skill requirement basis or project completion basis for a limited period of time. It also includes setting up offshore development centers (ODC) in India for our international clients.
Interim Management: We find outstanding senior executives to provide immediate short-term injections of management skills, which in the long-term add value to client's business. It is the highest level of contract staffing whereby an interim manager acts like a consultant to the client but dedicated only to one client/assignment as a time.
Team Assessment: Team assessment is the outcome of individual behavioral assessment or personal profile analysis focusing on individual behaviors - their strengths, limitations, and way of working, which finally gives an overview of the structure of the team, what each person brings to it and how behavioral modification can enhance team effectiveness.
Corporate Training: Customized training programs for corporate as well as for Individuals designed to help in career development, increased job satisfaction, enhance team effectiveness, identification of strength and weakness of own leadership style and eventually leading to better life balance.
We have clientele from more than 80 sectors and industries, in 50 plus countries across Middle East, Africa, Europe, USA and South East Asia. With
extensive network of international clients
and domain expertise across various industries, functions, geographies and nationalities; we are best positioned to offer comprehensive range of solutions under single roof.
We have clientele from more than 80 sectors and industries, in 50 plus countries across Middle East, Africa, Europe, USA and South East Asia. With extensive network of international clients and domain expertise across various industries, functions, geographies and nationalities; we are best positioned to offer the comprehensive range of solutions under a single roof.
We are strategically positioned to offer recruitment consulting solutions in India as well as overseas through our registered offices in India, USA, & the UK and state of the art delivery centers spread across India in talent rich, financial, IT and industrial hubs, with specialized team of consultants capable of delivering across sectors, industries, functions, levels, and cultures.
Our recruitment consulting/talent search solutions offers recommendations, strategies, and solutions which are specific to customer needs and issues across industry sectors, functions, and geographic locations. Our talent search provides advice, support and assurance to realize the maximum value from assets. Our business consulting complements its skills with tools, systems, and processes from within the wider Universal Hunt group streams. We can deploy the best mix of our capabilities through a well-integrated work share and technical performance management system.
We find leaders that build a winning business. As passionate experts in the executive search and recruitment consulting industry, we build leadership teams for our clients every day. Orchestrating a process that ends in the hiring of world-class talent requires a true partnership with a trusted outside advisor. We help maximize our client's exposure to the global executive talent pool and fully leverage the experience of our executive search consultants.
We deliver top-quality service that it designed to exceed our client expectations. To candidates, we are sound career advisors who can open doors to best opportunities. Long-term partnerships are the essence of our business. We nurture and cherish each of our client and candidate relationships.
RECRUITMENT EXPERTISE:
Our recruitment consultants have extensive and professional talent search backgrounds and proficiency in a varied scope of global industries. Managing each practice area with a specialist talent search practice team ensures competence within the practice groups. Each team is then responsible for "thought leadership" within the area of specialization, maintaining a close working relationship with key global clients, and provide a seamless global executive search service.
Categories of Industries and Sectors in which we have successfully handled assignments include:
Hydrocarbon/Energy/Oil & Gas/Petrochemical
Upstream & Midstream - Exploration & Production, Gathering and Processing
Downstream - Refining, Chemicals, Marketing & Distribution
Services - Oilfield, Engineering Procurement Construction (EPC) and Consulting
Energy/Power - Renewable and Non-Renewable
Infrastructure
Engineering, Procurement & Construction
Real Estate (Township Planning, Special Economic Zones)
Roads/Dams/Bridges/Water Treatment Plants
Building Materials
Heavy Engineering
Machinery Manufacturing
Defence Equipments
Pipes and Industrial Valves
Power Plants
Mines & Minerals
Coal, Aggregate, and Transportation
Cement/Asphalt
Metals - Steel, Copper, Aluminium
Financial Services
Corporate and Investment Banking - Fund Syndication, Mergers & Acquisition
Consumer and Commercial Banking - Retail, Consumer Finance, Leasing etc
Private Banking - Wealth Management, Trust and Trust Management
Insurance and Investment - Life & Non-life insurance, Mutual Funds
Transaction / Broking - Equity & Commodity Trading in Cash and Derivatives
Professional Services
Business Services - Lawyers, CPA/CAs, Notary, Real Estate Agents, Facility Management
Management Consultancy - Strategic Advisory, Executive Search , Functional Expertise
Technology
Hardware - Computer, Networking, Devices
Software - MIS/EIS, ERP, Comm, DB, EAI, Business Intelligence, Security
Telecom - Service Providers - Fixed, Mobile
Semiconductors - Manufacturing, Equipment, X-ray machines
IT Services - CIO, Outsourcing, Consulting, Managed Services, User IT
Internet & E-Business - B2B, B2C
Security - Software, Hardware
Fast Moving Consumer Goods
Media/Entertainment/Event Management/Publications
Life Science/Healthcare/Pharmaceuticals/R&D
Travel/Aviation
Hotels/Hospitality
Food/Beverages/Brewery
Logistics/Trading
Plastic/Chemical/Paint
Shipping/Marine
Consumer Durables/ Electricals
Automobiles and Auto Ancillary
Tyres
Textiles/Garments and Textile Machinery
Agriculture/Fertiliser
Pulp/Paper/Packaging
Government/Education/NGO